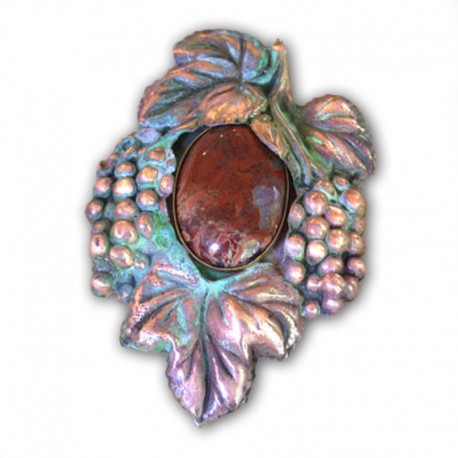  
Verdigris Patina Grapeleaf Pendant with Jasper
Verdigris Patina Grapevine Pendant with heavy duty soldered bale; 18 x 25mm Bracciated Jasper
heavy duty soldered bale on high-polished backing
18 x 25 mm Bracciated Jasper
Verdigris Patina

Security policy: Fully encrypted SSL security on every page

Delivery policy: Same Day Shipping - Free Priority Shipping for Orders totaling $35 and up

Return policy: 30 Day Return for any Reason Call 770-424-0403
heavy duty soldered bale on high-polished backing
18 x 25 mm Bracciated Jasper
Verdigris Patina
1 1/2" by 2 1/2"
This Grapevine/Wine sculptural art piece is formed in solid brass and has our signature verdigris patina finish applied to it.  We apply the patina finish with a torch, the old fashioned way used on sculptures for centuries.  And we silver-solder a bale to the back so you can string it on the necklace of your choice.   We apply our patented acrylic finish so that the patina is permanent and won't fade or rub off with wear. It's set with a genuine 18 x 25 mm semi-precious stone.
No customer reviews for the moment.